Kindergarten Registration 2018
Registration for Kindergarten starts January 15th.
All registrations will be done online this year. If you would like to come by and talk to us we would be happy to have you stop by to check out the school and answer any questions.
We look forward to welcoming you to École Campbelltown.
You do not need to submit a boundary exemption request to enrol your child in the French Immersion Kindergarten programs (if attending the designated French Immersion school)
Christmas Concerts
The students have been working very hard on their songs for their Christmas Concerts and we are so excited to share with families their amazing work. The concert times are below.
Kindergarten *dress in your festive best*
December 21 9:15 am - AM PROGRAMS (in the school gymnasium)
December 21 1:00 pm- PM PROGRAMS (in the school gymnasium)
- Please speak to your child's teacher if you have any questions
Grades 1-3 (Park Church) Div 1 Concert Info   Christmas Concert Program Concert One 2017
December 15- 6:30-7pm 
Grades 4-6 (Park Church) Div 2 Concert Info   Christmas Concert Program Concert Two 2016
December 15 7:30-8:15pm
 Please be mindful that there is limited space for the audience. 
 Here are guidelines to follow, so that we can have a great concert!
It is at Park Church: 1 Brower Drive across from the Strathcona County Health Centre on Friday, December 15.
Exterior doors will open at the stated time for the first or second concert. There is not enough room to gather in the lobby.
Parents are asked to ONLY attend the concert their child is involved in.
Do not block any of the aisles during the concert due to fire safety and student use.
Keep your children with you that are not performing.
No food or drink is allowed in the auditorium.
Students are to not wear outdoor boots on stage. They need indoor shoes or perform in socks.
1-3 concert: students arrive at 6:00 pm using the east entrance door number 4 (See map). The outside door will not open until this time. Actors and tech helper for first show enter here too.
One parent is to drop off their child in the "Fellowship Room" and then join the other members of your party in the auditorium. This will alleviate congestion. Actors see Madame Pickering in the auditorium.
1-3 Concert is from 6:30-7:00 pm.
At the end of the concert please remain seated until all 1-3 students have returned to the "Fellowship Room".
1-3 Concert: Please exit through the center three doors (see map).
One parent can pick up their child where they dropped them off, again to alleviate congestion. Parents not staying in 1-3 can exit out the same door that they entered in from.
The intermission is from 7:10-7:30.
For safety reasons, if you have a child in both concerts, only one parent gets their k-2 child and the other members stay seated. There will be a lot of people entering and exiting. The 3-6 student can go to their meeting place (see map) and the younger child can return to their seats with the parent.
Grade 3-6 Parents: Do not enter the church auditorium until all the students from the first concert have exited. Enter through the first three doors on the west entrance side marked on the map.
Grade 3-6 is to arrive at 7:10 PM using the West Entrance door number 2 (See map). Doors will open at arrival time. Actors see Madame Pickering in the auditorium.
One parent will drop off their child in the marked hallways (see map) and then join the other members of your party in the auditorium.
Parents are to pick up their child from the "Fellowship Room" at the end of the concert.
Please email Mme Smith if you need a reserved place in the church for wheelchair or mobility device placement.
There will be overflow parking at OLPH church and the Strathcona County Health Center.
Starting our day off right!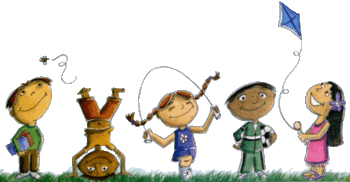 Did you know that the first bell rings at 8:25 am and all students are welcome to come into the building at 8:25 everyday. Supervision outside starts at 8:15 am.
Please ensure that students arrive on time so that they do not miss valuable instruction time. If a student is 10 minutes late in a day they will miss over 30 hours of instruction in a year.
Thank you most respectfully. Our bell schedule is also available on our website to assist you in planning appointments for your children. If you have any questions or would like to talk about this further please feel free to contact me. ~Mme. Smith
Families are invoiced for school fees at the beginning of every school year. Fees are due within 30-days of the invoice date. The simplest, and most convenient, way to pay schools fees is using ACORN by logging into the PowerSchool Parent Portal. If circumstances exist where you are unable to pay your students fees you can apply to have fees waived by submitting an Application for a Waiver of Fees.
For more information:
EIPS fees and waivers
École Campbelltown fees and waivers
Student Transportation fees
School Education Plan
Take a look at our results. We are very proud of our students
Accountability Pillar Report 2016
School Education Plan - Year 2
Division News